We've built a more secure login system for FMI that provide options to enable Single Sign-on (SSO) in the future
This article relates to our FMI Works product, when delivered as a cloud solution
What is FMI Login?
login.fmiworks.com is a complete authentication service that operates separately to our FMI Works application. login.fmiworks.com is built using the IdentityServer4 framework.​
IdentityServer4 is based on the 15 security standards of OpenID Connect, which are the current best practice for security.
Single Sign On (SSO) and Multi Factor Authentication (MFA)
With FMI Login, SSO and MFA can be enabled, when linked to an SSO provider. Currently, FMI Login is integrated with SSO providers Azure Active Directory and Okta. If you are interested in enabling SSO or MFA, please contact our success team.
Turning on the new login system
The new login system was automatically turned on for all new customer environments from 11 November 2021 and will be progressively rolled out to existing FMI cloud customers.
Our customer success team will be scheduling updates on an individual customer basis, to provide transition support for customers.
Changes for users
A one-time password reset will be required by all users, so that FMI can connect them to the new login system.
Once a user has reset their password, subsequent logins to FMI will be a seamless experience for the user.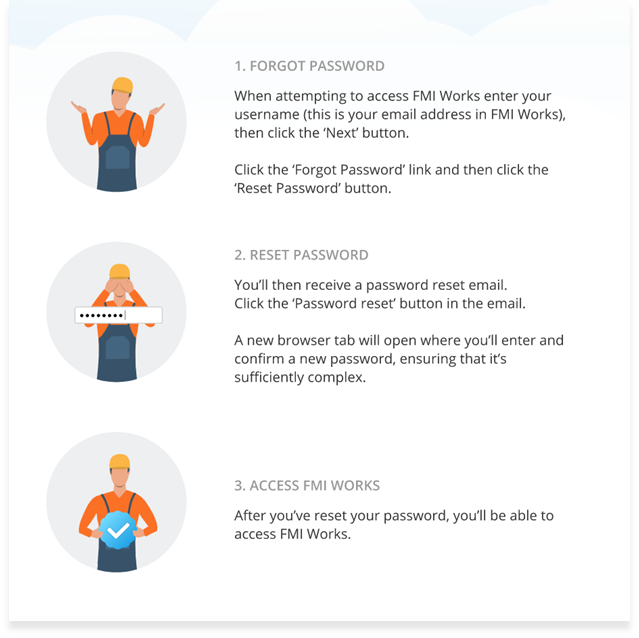 What if I get an error?
If a user attempts to login to FMI Works before verifying their email address, they will be taken to the Verify your email page.
If a user goes through the 'Sign Up' process (or has previously signed up for login.fmiworks.com) before they are created in FMI Works, they will be taken to an Unauthorised page.

The user will also see the Unauthorised page if their User ID has been made inactive in FMI Works.